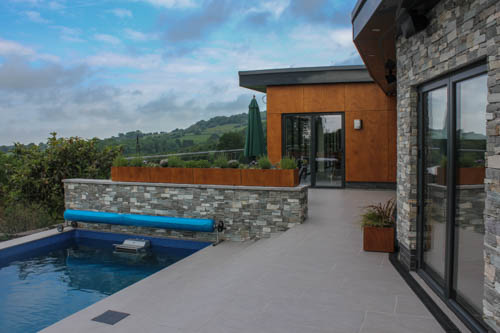 The planning department is the first port of call for many people before carrying out any work.
Do not assume your project is too small to require planning consent.
Always check- it only takes a phone call,
Forest of Dean District Council        Tel 01594 812340
Monmouthshire County Council       Tel 01633 644644
Newport City Council                      tel 01633 656656
Torfaen County Borough Council Tel: 01633 648101
Ask for Planning Administration
Confused about Planning Officer and Building Inspector? See The Design Process.
General Issues to Bear in Mind
If you are thinking of alterations or extensions I suggest you talk to your neighbours and explain what you are thinking of doing. Apart from being polite it can avoid objections if you proceed with a planning application. This is especially the case the nearer you go to your neighbours boundary.  My home is my castle and I will defend it till the end. Be very wary.
If you intend to build a two storey extension near the boundary then the scaffolding which is about 4'-0" wide will have to go all the way around even on your neighbours property. You will need their permission.
Do not even think of trying to build something without Planning permission. Even if the site is off the beacon track, rest assured someone will notify the council.
There is no such thing as 'just a garage' or 'only a conservatory'. These are dealt with in the same way as any extension to the property. Adverts by Conservatory suppliers that suggest planning permission 'may not be required' are relying on the possibility that the volume of the conservatory may fall within the permitted limits for domestic buildings.  There is more to this than simple limits.  If you feel that the conservatory and or extension is permitted then you must get written confirmation from the council that Planning permission is not required. Your solicitor will ask for this document when it comes to sell in the future.
Many new homes have their permitted development rights removed so that any extension within the future can be strictly controlled by the authority. So if you wish to convert your attached garage into a dining room and believe it is permitted development then first check with the council to see if your permitted development rights are in place. This is especially the case in  Barn Conversions.
Commercial properties such as shops, offices guest houses, farms have no permitted development rights. This means any little building works such as a Porch will require Planning Permission.
Altering an existing access or making a new one to a  road or lane whether it be for pedestrian or vehicular will require Planning permission. The planning officer will go forward on the recommendation of the Highways Officer.
If your property is within a Conservation Area or an Area of Outstanding Natural Beauty then tighter restrictions will be implied.
If your property is listed any alterations will require Listed Building Consent in addition to Planning approval. Do not forget if your house is listed then all your outbuilding are automatically listed to. Penalties for none co-operation and are heavy.
If in any doubt telephone the Planning Department and get their advice or even pop along to their One Stop Shop which they hold weekly so you can discuss your proposal over the desk with sketches and/or photos.
If in doubt contact Maison Design to clear the path for you.
So you have your Planning Permission what next?
So all the hard work is done you have got your planning permission- now what?
Permission is usually Approved WITH CONDITIONS. Sit down with a cup of tea and take time to read the conditions carefully. If you fail to comply with these conditions then the council will penalise you heavily. It will hold up the building process and you will be out of pocket. It is not worth it  believe you me.
I often have planning permission granted with condition;
that an Archaeologist will conduct a Watching brief on the excavation.
That  samples of roof and brick materials are submitted to and approved prior to work commences on site.
That window and door detail is approved prior to work commencing on site.
Landscaping scheme to be submitted and approved before work commences on site.
Just remember that if you do not comply with the conditions then your Planning Permission may be Invalid!!!!
Please be aware that when the Building Control Officer checks the construction work on site the planning officer will be told of any revisions and /or  deviations from the original Planning drawings and if different in any way may require a new planning application. So if the builder is on site and continues with the work so be it on your head. You will have the authorities Enforcement Officer breathing down your neck. He is always polite but persistent.
So if you wish to make any amendments notify the planning officer and get written permission first.
Where Next
Normally a Building Regulation application can be submitted but usually this will run in tandem to the planning application.
If in doubt seek an expert. Contact Maison Design.